Throughout India there are a huge number of ancient holy sites and many of these sites have famous temples dedicated to a specific Deity. A few of these temples have opened "franchise" temples in the West and other parts of the world, that is to say, replica versions of the original sacred image found in India have been installed in new Western temples. Three such sacred images that are seen most commonly are Balaji, Jagannatha Swami and Shri Nathji.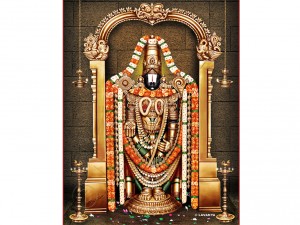 A hundred kilometers north of Chennai (Madras) in the southern state of Andra Pradesha is the famous Balaji temple at a place called Tirumala. This region is famous for its seven hills called the Venkata Hills and so the full name of the Balaji murtis is Venkateshwara, the Lord of the Venkata hills. The town at the base of these hills is called Tirupati which is the more common name on the maps of this region. You visit Balaji by first coming to Tirupati and then walking or driving up the Venkata hills to Tirumala.
Balaji is worshipped as a form of Vishnu by the Sri Vaishnavas, who are common this area, and who say that Balaji is the Kali Yuga avatara of Vishnu who incarnates on earth during the current age. In the Bhagavad Gita it is said that in different ages, God incarnates on earth to establish true religious teachings and to give protections to His devotees and to destroy the sinful. Balaji is said to be the current avatara for this age. Another name for Balaji is Srinivasa which literally means the abode of Lakshmidevi. Lakshmi is the consort or wife of Balaji and for many Shri Vaishnavas, Lakshmidevi holds particular importance. The main feature for Balaji, for which he is most famous, is his sacred bath, abhisheka. Almost every major city in America now has a Balaji temple or image in their region and any Saturday morning one can attend this sacred bathing ceremony. During these ceremonies Balaji is liberally bathed in milk, butter milk, honey, sugar-water, fruit juices and other substances. It is a wonderful sight to see.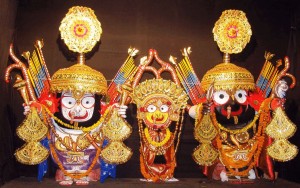 South of Calcutta in the state of Orrisa on India's east coast is the famous Jagannatha Temple at the city of Puri. Here there is an ancient temple dedicated to three famous Deities, Jagannatha, Subhadra and Baladeva. The Gaudiya (Bengal) Vaishnavas of this area worship these sacred images as forms of Krishna, His sister Subhadra and His brother Balarama. Other devotees see these forms in a slightly different way as Vishnu, Durga and Shiva. Regardless, these three murtis can now be seen throughout the world in Hare Krishna temples. Jagannatha (Krishna) is most important to Gaudiya Vaishnavas and so when the Hare Krishna movement established itself in the West, Jagannatha came with them. Today there is an annual festival called Ratha Yatra that is celebrated in major cities around the world. The Ratha Yatra is sometimes called the Festivals of Chariots because during the festival these three sacred images are placed in chariots and pulled by devotees through the street in a parade accompanied by singing and chants of Krishna's names. The original Ratha Yatra festival is held annually in Puri during the month of June when literally millions of people attend.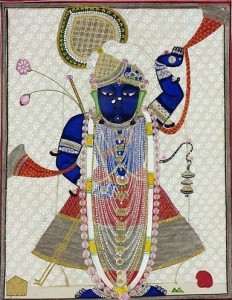 Shrinathji is a form of Krishna, manifest as a seven-year-old child. The principal shrine of Shrinathji is situated at Nathdwara, located 48 Kilometers North-east of Udaipur city in Rajasthan. Shrinathji is the central presiding deity of the Vaishnavas known as the Pushti Marg (The way of grace) or the Vallabh Sampradaya or Shuddhadvaita, established by Shri Vallabhacharya. Shrinathji is worshipped mainly by the followers of Bhakti Yoga and the Vaishnavas in Gujarat and Rajasthan among others. Vitthal Nathji, son of Vallabhacharya institutionalised the worship of Shrinathji at Nathdwara. On account of the popularity of Shrinathji, Nathdwara town itself is referred to as 'Shrinathji'. People also call it bava's (shreenath ji bava) nagri. Initially, the child Krishna deity was referred to as Devdaman (The conqueror of Gods – Referring to over-powering of Indra by Krishna in the lifting of Govardhan hill).[6] Shri Vallabhacharya named him as Gopala and the place of his worship as 'Gopalpur'. Later, Vitthal Nathji named the deity as Shrinathji.