Pradakshina, Kalasha, Coconuts and Prayer Rooms
Why do we light lamps during puja?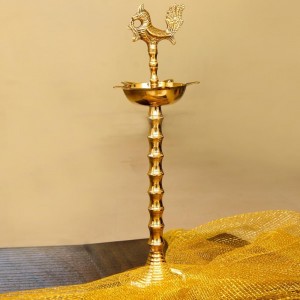 During puja lamps are lighted and usually placed on each side of the main worship area. The purpose is both practical and symbolic. In a time before electrical lights were available, the lamps provided illumination, but today the purpose is mainly symbolic. In some cases five separate flames are lighted on each side of the puja area. Fire is one of the five basic elements of matter (the others being earth, water, air and space and so the five flames represent these five elements of matter.
Why do we apply the holy ash?
Many forms of tilakam are applied with holy ash (vibhuti) especially amongst  the Shaiva schools of theology. Holy ash is also a form of prasada and so applying sacred ash is an act of purification and submission. Some people also say that holy ash also contains antiseptic qualities.
Why do we do Pradakshina?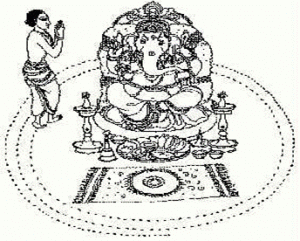 Pradakshina means circumambulation or moving around in a circle. In a temple devotees may perform circumambulation around a Deity or even around the whole temple. One may also circumambulate a sacred object such as a tulasi plant or even a cow. Circumambulation, like touching the feet, is an act of submission, reverence and devotion. The devotee is putting the object of veneration in the center of his or her life. In general circumambulation is always in a clockwise direction. This is in accordance to our much mentioned metaphor: the sun equals light, which equals knowledge, which equals, consciousness, which equals liberation. The source of light, the sun appears to move in a clockwise direction across the sky from east to west and so circumambulation follows the way of light, left to right. Sometime an act of circumambulation is not done by walking, but also by laying on the path fully outright and then getting up, laying out again and moving one body length, and then repeating the process one body length at a time all the way around the object of veneration. It is not uncommon to see this done around temples and even around whole towns such as the holy city of Vrindavan in India. Such an act of circumambulation is over 30 kms in length! In a less extreme form, it is common for devotees to circumambulate a temple by walking around a certain number of times, sometimes as many as 108 times. 108 is a sacred number.
Why do we worship with a Kalasha?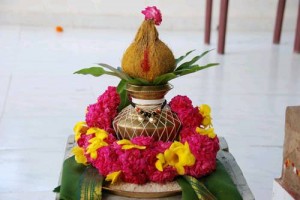 A kalasha is a metal pot of a certain shape usually made of copper or brass. The kalalsha is most commonly used to hold a coconut and leaves during puja. See the illustration. This combination of copper pot, coconut and leaves becomes a symbolic receptacle for the placement of a Deity. The coconut is the head, the leaves are arms and legs, and the pot is the body. The kalasha is also used during bathing ceremonies (see abhishekha) to hold various liquids used in bathing a Deity.
Why do we use coconuts?
Coconuts are a really fun fruit. They are full of all kinds of layers and therefore full of great symbolic meaning. In puja we use a coconut as a head for a Deity, we sometimes use them to represent the the universe and worship them as the world. We also interpret them as a heart with an ego (hard on the outside and soft and sweet on the inside), and then they are great to break when inaugurating new cars and entering new homes and businesses. They are like breaking a bottle of champagne. The fruit on the inside is not only good to eat it is also good to burn when it is dried for havans. We love coconuts.
Why do we have a prayer room?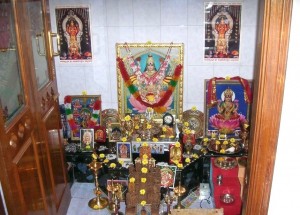 Most Hindu homes will include a prayer room where a small shrine is kept that holds the family Deities and other sacred objects. In the simplest case, this prayer room may be placed in a small closet, cabinet or even shelf. In a more elaborate case, a separate room may be dedicated for the shrine. Ideally this room would be in the northeast area of the home, which is isha-kona (God's corner) according to vaastu-shastra. The prayer room is generally maintained by the ladies of the family and in the morning they will light a lamp and incense and offer prayers to the Deities in the shrine. At different times of the day food may be offered on this altar. As to why Hindu homes have a prayer room, I think it is obvious. Prayer and worship are not something only reserved for a certain day of the week in a temple. Instead prayer and worship are part of the daily practice of a Hindu family.