The answer to this question is most certainly yes! Hindus do worship idols, but so do Christians, Jews and even Muslims. In fact, it is impossible to conceive of God without some form of idol, for idol worship is the way of religion. Let me explain.
In Hinduism there are many words to describe the nature of God, and we will refer to them as the need arises, but in this regard, the most relevant word is acintya, which means "inconceivable," "beyond thought." The true nature of God is therefore, beyond the ability of human beings to understand, yet we have a need to reach out in our mind and try to conceive of God, so we create an image of God in our minds. This mental image of God is an idol. Most people, including Hindus, think of an idol solely as a graven or carved image and, while this is true, an idol is a carved image, it is also a form that begins in the mind. It is a mental form. Consequently, mental forms are also idols.
The Image of Father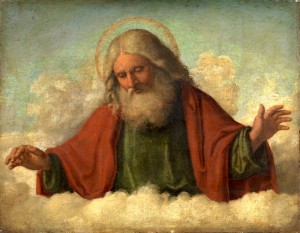 With this in mind, perhaps the most common mental images that human beings use to conceive of God is as a Father, a King or a Mother. The idea of a father, a king or a mother is therefore, a mental idol, a tool we use, to conceive of what is actually inconceivable, beyond thought. Convert that mental idol into a wooden or stone image and you have created a graven idol. From a Hindu perspective there is little difference between a mental idol and physical idol. One is just an extension of the other. And so, if you conceive of God as the supreme Father, or as the King of kings, or the divine Mother, you have created an idol, a material image with which to approach God. Human beings have no choice other than to approach God through these idols, even though all idols are simply crude and limited approximations of what God is in reality. Of all religions Hinduism seems the most adept at converting mental idols into physical form as graven idols, or what we prefer to call, sacred images. In fact, we generally teach our students not to use the word idol at all because it gives the wrong impression amongst many non Hindus. Indeed, Hindu temples are full of such sacred images and Hindus have special ways to install and interact with these images in their temples and homes. In most cases these images are viewed, not as material images, but as spiritual forms. This is the result of seeing through faith.
Which Image?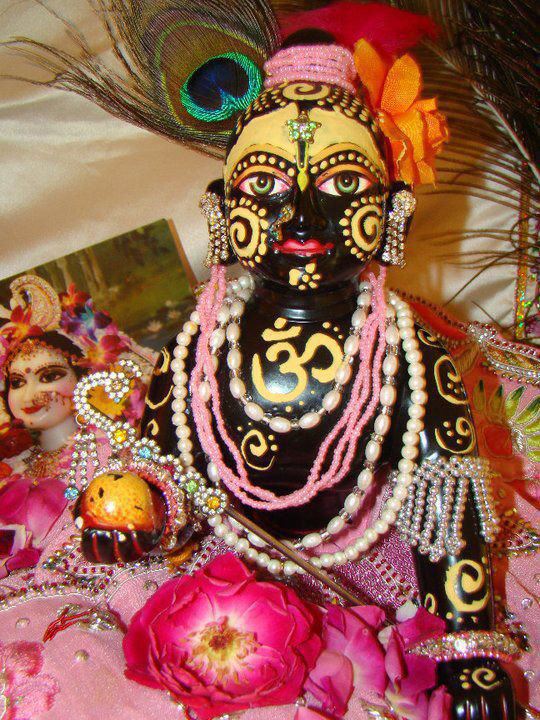 Another Sanskrit word that describes the nature of God and which comes into play in regard to idols is sarva-gata, which means literally "gone everywhere." In other words, sarva-gata refers to the all pervading nature of God. God is in all things and in all places. In fact, you are sitting or standing on God right now, which means, technically speaking, you could worship the floor or chair or anything as an idol of God. This, however, is generally not done. Instead, Hindus worship specific images that are described in scripture (shastra). The technical name for these sacred images of God is arcya-vigraha. Arcya means 'worship-able' and vigraha means "form" and so arcya-vigraha is the "form to be worshipped." We can also say that God agrees to appear in these special forms that can be understood by human beings in order to allow Himself to be worshipped. A more common term that is used instead of arcya-vigraha is multi, which simply means sacred form. These sacred images that you find in Hindu temples and homes are installed according to specific rituals also described in scripture (See Prana Pratishtha). How Hindus perceive of these images varies according to adhikara, but one simple way is to see these sacred images as "mail boxes." Devotees come to a temple bringing fruits and flowers and all their prayers and hopes and stand before the sacred image and "post" their offerings and prayers through the sacred image. The worshippers are not bowing down to stone, they are not worshipping a statue; they are approaching these sacred images as the means to get to the God behind the image. In a similar way, a Christian may kneell before a crucifix of Jesus and pray. The worshipper is not worshipping the wooden cross, but instead he is approaching his object of devotion, Jesus, through the manifestation of the crucifix. This is a form of idol worship from a Hindu perspective. Even a Muslim, who will never worship any form, cannot help but have some abstract mental image or concept of God. The very idea of God is a conceptual form, but this too is an idol, albeit an abstract mental idol. It can not be helped. This is what I mean when I say there is no way to conceive of and worship God except through some form of idol worship.
Language as an Idol
Closely related to these ideas of idol worship is the use of human language to express our understanding of God. The very words acintya or sarva-gata, are human attempts to touch God using language. But even language is a product of this world and therefore is limited to the boundaries of physical reality. Language, even though it is a crude instrument used to express what is beyond thought is still the best instrument we have. So when we speak about God as our Father, our King, our Lord or our Mother, these words are also idols of God. But, again, how can we speak of the divine without these idols of language? Idols of the divine cannot be avoided.