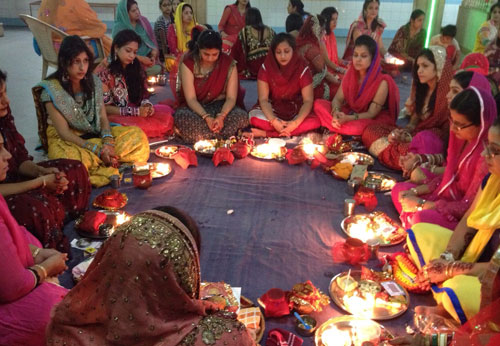 Karwa Chauth is a "ladies" festival that is especially popular within many of the communities from north India, particularly the Punjabi community. It is a vow to fast undertaken by married ladies, who offer prayers to the Goddess Gauri seeking the welfare, prosperity, and longevity of their husbands and families. The word, "karwa" refers to an earthen pot with a spout, which is seen as a domestic symbol for peace and prosperity. The word "chauth," means 4th and it refers to the fourth lunar day after the new moon in the month of Karttika (October-November) when the vow is followed.
On the day of the vow, married ladies will rise early, before the sun, bathe, perform some puja and recite a sankalpa (a special prayer that describes the vow they are about to follow) and then take a simple "pre-fasting" meal.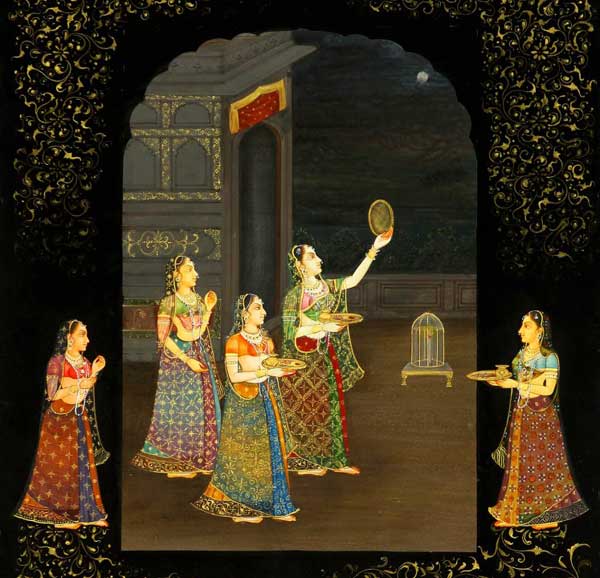 For the rest of the day they will abstain from food including even water. In the later afternoon, a few hours before moonrise, they will dress in their best outfits and jewelry, which may include their wedding outfits, and then get together at a temple or someone's home for a collective puja. Typically the ladies will sit in a circle and perform a Gauri puja accompanied by a traditional story that describes the origins and benefits of following this fast. During the puja each lady holds a tray that is passed around the circle at different times making a total of seven rounds. These seven rounds match the seven circles that a bride and groom take around the sacred fire during their wedding ceremony. Once the puja is completed the ladies will go outside and wait for the moon to rise. They do not break their fast until they have seen the moon. Interestingly, they never look directly at the moon, but only through a screen like a sieve or at a reflection of the moon in water. After seeing the moon each lady will return home, bow to her husband for a blessing and then eat a simple vegetarian meal. That at least is the tradition.